We hold special promotions on services and products we offer. This page is updated regularly with current special offers you can take advantage of when you visit us. You can even sign our Guest Book if you would like us to notify you when specials are offered.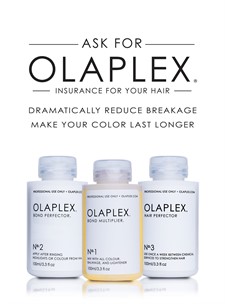 Protect and Repair

OLAPLEX
The ORIGINAL chemistry that multiplies bonds and cross-links broken bonds. We are so excited to be able to offer you this amazing treatment. If your hair is overprocessed or damaged, this is for YOU!

Strengthen your hair :
#1 & 2 during color and lightening services *$20
- #1 & 2 Salon Treatment *$40 (+10 blowdry)
#2 on ends during color retouch service $10
#2 express treatment $15
#1 added to perm solution $10
* additional charges for long hair or multiple treatments
- at home to maintain the results between salon visits $28 per bottle


Olaplex is free of silicone, sulfates, phthalates, DEA, aldehydes, gluten and is never tested on animals. Olaplex reconnects broken disulfide sulfur bonds in the hair. Hair bonds are broken during thermal, mechanical and chemical services.